If you do not want to have permanent scars on your scalp after hair transplantation procedure opt for minimally invasive "Neograft" or "ARTAS" FUE procedure. Neograft or ARTAS = NO visible scars
Welcome to the Chicago FUE Minimally Invasive Hair Transplantation Center
Your Experience Matters!
Most comprehensive and experienced FUE hair restoration center in Illinois
Offers cutting edge ARTAS ® robotic hair restoration AND the Neograft® automated hair transplantation
We were the first center in Chicago and the Midwest to introduce the Neograft system and have the longest and largest experience with this technology
We are the first center to offer the cutting edge ARTAS robotic FUE transplantation technology
We can design a minimally invasive procedure that is best for you utilizing the best technology on the market
We utilize various donor sites – we can transplant hair not only from the back of the scalp but also other parts of the body such as your chest, arms, legs, beard, etc. all without scars
We can reconstruct and cover strip donor-site scars
We can cover not only balding spots but also traumatic, chemotherapy defects
We treat Caucasians, African Americans , Asians, Men and Women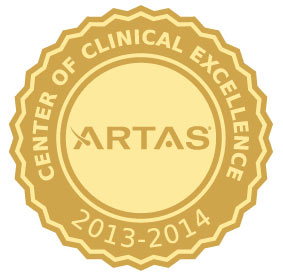 We are recognized as "ARTAS Center of Clinical Excellence" by the Restoration Robotics company – together with selected few centers in the world that are leaders in robotic hair restoration!
In order to achieve this status, a center must be able to perform ARTAS Procedures with the following performance criteria: procedures of ≥ 2000 grafts, follicle transection rates of ≤ 10%, harvest yields of ≥85%, and harvest speeds of 700 grafts/hr.
Although FUE procedures are minimally invasive and cause little pain and recovery time compared to conventional STRIP hair transplants, FUE procedures can still last eight hours or more. Such a long procedure time may cause fatigue in even veteran surgeons and you don't want a tired doctor plowing for follicles on the back of your head. Luckily, the new ARTAS FDA approved system can aid the doctor with this heavy hair-pulling.
The revolutionary ARTAS robotic system utilizes a computer-assisted image guidance system to increase the number and quality of usable hair follicles gathered from donor sites. This new system is more precise and less invasive than what even sure-handed surgeons can accomplish with the Neograft.
Although the ARTAS robot does not get tired and produces very uniform and viable grafts, the system does have its limitations. For one thing, it only works on men and women with straight hair and only on the scalp (so far!). Those with curly hair or simply not enough hair left on the scalp are not good candidates for ARTAS robot but can be a good candidate for Neograft.
For people who currently do not qualify for the ARTAS technology, the Neograft system is still very effective. Since the Neograft is human controlled it can work on curly or African American hair and also can be used to harvest hair follicular units from secondary sites such as the chest, back, beard, arms and legs. Moreover, it can be helpful in secondary cases with multiple previous scars.
Therefore, by offering both the ARTAS robot and the Neograft technologies, our center can be successful with all types of cases – not only first comers who are afraid of ugly STRIP scars but also the most complicated re-do or unusual patients. Experience and technology count!